I was chatting to somebody at a gig this week and mentioned that I actually really enjoy shooting weddings. This guy was genuinely shocked and I'm still not sure he really believed me! Admittedly, if somebody had said that to me a couple of years ago my reaction would have been the same. But that was before I realised that wedding photography has advanced massively from the stereotypical forced cheesy smile/family line-up/formal shots that people associate with it.
Sure, there are still plenty of photographers out there doing the same old thing but they're hopefully a dying breed. These days more and more couples are looking for something more dynamic, creative and, dare I say it.. Sexy! The brides are seeing adverts in bridal magazines and, maybe subconsciously, looking for something similar in their own photographs. They're also seeing more and more reportage style wedding photography which captures the story of the day without disrupting it. For me, this allows me to take my passion for photography and create images which I'm proud of and which, hopefully, the couple will be genuinely excited by when they see the results.
I'm still on the learning curve with all this of course and that's good. I'm still taking inspiration from people like Jerry Ghionis and Brett Harkness and hopefully developing a style all of my own.
Wednesday was a day full of inspiration from 2 of the world's most exciting wedding photographers – Yervant and Joe Buissink. I got to spend the whole day in their company, finding out what makes them click and hearing stories which confirmed my belief that this is something I want to do, and want to do well. Joe is the man who photographed the weddings of J-Lo, Christina Aguilera and Kelsey Grammar, and he's just shot Steven Spielberg's 60th birthday party! Yervant hasn't done so much of the celebrity circuit but recently had one client ask him to look after all the arrangements for his wedding including the priest, flowers, venue etc. He then handed over a cheque for $1 million to cover the cost! Not bad for a wedding photographer eh? He just bought a new studio in Melbourne for $1.2 million.
It's all a long way from photographing meetings in an office, which is exactly what I was doing yesterday. Very uninspiring and dull but these things pay the bills. Well, maybe one bill!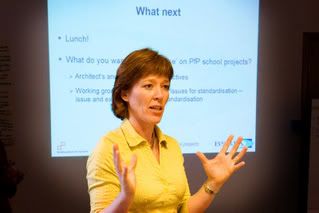 Thursday night, Evelyne and I met up with Zoe & Gareth, the couple whose wedding we shot last, and gave tham an 18 minute slideshow of the best images from their day. I'm happy to say they loved them and struggled to choose which ones would make the final album. They have good taste so their album's gonna look amazing. We'll start designing it this weekend and I can't wait to see the finished result.
For now though I need to prepare for my interview with Venture. Wish me luck!