One of the things I love about being a photographer is the variety that the job brings me. It's why Professional Photographer magazine called me the "Jeckyl & Hyde" of photography and yesterday was another good example of that diversity.
Evelyne and I had visited the hospital during the afternoon for some routine injections and then spent a few hours in the office preparing a presentation of the images from Kerry & Martin's wedding. The couple had only paid for an album of 24 images but we had over 200 to show them. I prepared all the images on a disc and then put together a DVD slideshow using 3 of their favourite songs. At 7pm we went over to their house and showed them the photos, which happily they loved. They ended up ordering extras for the album so we made a few quid extra. Everybody's happy!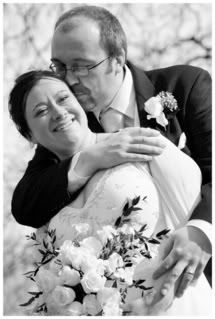 From Kerry & Martin's, I dropped Evelyne home and headed into town to the NIA for the Give It A Name event. There were lots of bands playing but I'd missed all of them except AFI. Grabbed a few shots of them and then had a beer with my friend Simon. The sound at the gig was pretty awful and AFI seemed to be going through the motions. The arena was also half empty which meant there was little in the way of atmosphere.


James Sharrock, the photographer from Kerrang!, was at the gig too and afterwards we headed over to the pub for a beer and a catch-up. He's a top bloke and it was nice to
have time to chat rather than just saying hello in the pit while we're shooting. He even gave me some advice about approaching Kerrang! which is a mag I'd love to work for.
So today I'm off to Serbia for the Trenchtown
festival. I found out today that I'm headlining so it should be a great night. Just got time to get my tunes together and head to the airport….