Woke up at 4:15am to feed Elliott and, unable to get back to sleep, decided to make a big mug of tea and get on with some work. I actually feel strangely productive at the most unsociable hours. I still have a bit of a backlog of images to work through but I'm also excited to start editing the photos from Louise & Brad's wedding this past weekend. It was a fairly religious wedding, with the church service being the main part of their day. Luckily Evelyne and I had plenty of access within the church during the ceremony and we came home with a fantastic variety of shots from all angles in the church. There was a balcony which ran down both sides of the church allowing us to shoot from above. Amazingly, the vicar told me that no photographer had ever asked if they could photograph from up there before!
Here's a portrait of Louise just before she left for the church…

Sunday was anything but a day of rest this week, beginning with a photo shoot with local band, The Arcadian Kicks whose gig I reviewed a few weeks ago. Together with make-up artists, clothes borrowed from Top Shop and their manager (who also drums for The Charlatans) we spent a couple of hours wandering around parks, hotels and industrial estates getting a good variety of shots for them to choose from. Hopefully they'll be pleased with the results and maybe John will let me do some pics for The Charlatans some time..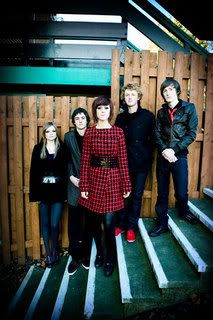 From there I had 2 viewings with potential wedding clients, both of which have now confirmed us as their wedding photographers. One wedding is at the beautiful Eastnor Castle which looks like a dream venue for photographs. The second is for Charlotte & Steve who are the kind of couple I could imagine becoming good friends with. Both were at the Metallica gig I covered for Rock Sound at Wembley so I'm sending them a print from the show as a thank you for the booking. Charlotte is also French speaking, as is her family, so it'll be good to have Evelyne there on the day (her first language is French) to help out. Charlotte runs a company called Traces Of Rock which sells kids clothes with a rock style to them. Check out the website HERE.
Sunday night saw my friend Toni and I heading over to Nottingham to see Warrior Soul at a tiny club called Junktion. It was a bit of a blast from the past for me as it must be a decade since I even listened to them. It was a good gig though and great to see them in such a tiny venue as I'd previously seen them opening for Metallica at the NEC Arena.
Since Sunday things have been somewhat more relaxed and Evelyne and I have taken time to reorganise the office, watch The Departed, which was fantastic, and go for lunch with fellow photographer, Emily Quinton, her boyfriend Stef and their little girl, Imogen.
I had to get home for 3pm to register for a place on the 5 day seminar with Jerry Ghionis, which, although not til next June, I'm extremely excited about. There were only 20 places but it looks like I got in. I'm awaiting my confirmation..
Off to Chester today to introduce Elliott to his great grandma. While we're there we have an appointment to see the events co-ordinator at Chester Zoo, as they now do weddings there. I love the idea of having wedding images with the animals in the background. I'm not really a massive fan of zoos but Chester Zoo is certainly one of the best, with a good reputation.