The Steve Gerrard Photography site received around 4 times as many hits this weekend as usual. It was encouraging until I realised, using SiteMeter, that a certain footballer called Steven Gerrard had had his wedding this weekend and tons of people were putting phrases like "photographs of Steven Gerrard's wedding" into Google and finding my site! Not really sure why in some ways as I only use the name Steve unless I'm in trouble with my mom. Still, I don't really understand how Google searches work to be honest. I like the fact that people are finding the site anyway, even if they're not really looking for a photographer. When I was DJing some idiot even said I should use a different name instead of Steve Gerrard… which IS my name and I had it before the footballer! lol
Anyway, congratulations Steven and Alex if you're reading this. Which you might be if you're searching Google for photos of yourselves. I'm still up for photographing the kids for you 😉
Had a great night Saturday up in Stoke where I was doing a shoot for NME with a band called Dragonette who are the loveliest people you could hope to meet. After the show I spent 2 hours in the dressing room chatting to the singer Martina who, once she found out we're expecting a baby, was all excited about helping to choose a name. Very rock n roll eh? She made me promise to email her and tell her what we decide on when the baby arrives. I have to confess, she was quite cute too (sorry Evelyne).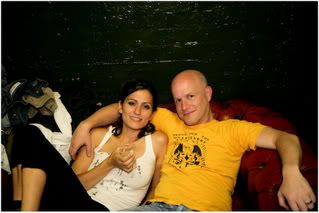 Driving to Stoke was enhanced by the use of my new SatNav which we bought earlier that day. We desperately needed one too after relying on printed directions to get to clients houses too often. We've had some quite stressed out journeys and have arrived late more than once. I have a feeling we'll soon wonder how we ever lived without our TomTom.
Sunday was Father's Day and I awoke to find a "Happy Future Father's Day" card waiting for me which was cute. We took the day off and enjoyed the one day with a bit of sunshine out in the park with the dogs and our friend Toni before coming home and watching The Cooler on dvd which was really good.
I then read an amazing book called Master's Guide to Wedding Photography by the brilliant Marcus Bell . Check out his website. The book and Marcus' work are so inspiring and at the moment I'm feeling so passionate about all aspects of photography. It's an amazing feeling being 100% sure about what you want to do with your life and being able to earn money doing something that's a genuine passion. I feel lucky. I've had shitty jobs before where I watched the clock waiting for 5pm so I could get out of some boring office. Never again…
It's getting a bit depressing waking up to rain every day in mid-June. Even more so when Evelyne is from Montreal which is now experiencing great weather apparently, and she misses summer in her home town. Not much I can do about the weather though so I'll have to think of other ways to keep her smiling.