Things are busy on the photography front at the moment and we're booking in more jobs almost every day. Usually it's a job for a music mag, a new wedding confirmation or maybe a corporate shoot for some business or other. Today though the phone rang and it was a solicitor asking if we were available to photograph his client's scars!! The client was local to where we're based so it seemed easy enough so we agreed a price and booked the job in. Now I'm just wondering exactly how bad these scars are! I'm the kind of person who has trouble watching ER and Nip/Tuck without turning away from the tv (I know, I'm a wuss!) so I hope I'm not photographing gaping wounds or gross deformities!
Like I say, things are getting busier and it's tough keeping up sometimes but thats how I like it really. The business is still very young but seeing it becoming so successful at this early stage is really encouraging, although we're far from rich yet. Both Evelyne and I have worked hard to get the business off the ground and we're just now starting to catch up after all our cash went towards building it up from scratch. It was a struggle to go from making good money promoting nightclubs to making virtually nothing while investing what we did have into this new venture. We look back now and realise it all happened for a good reason and I don't miss promoting clubs one bit. It was great for a while but it gets tired very quickly and it was only the money that kept me doing it for so long if I'm honest. For the first time in my life I'm spending my days doing something I am truly passionate about and that is something I'm truly grateful for.
Since I last updated this blog I've had a massive variety of work on. I've mentioned before how the variety of this job is something I absolutely love and I don't think many people can say that they've met and photographed knights of the realm, couples getting married, premiership football club chairmen, heads of industry, upcoming bands and the singer from Napalm Death all in the same week! Barney from Napalm Death was reviewing the singles for Rock Sound so I go to spend an hour round at his flat listening to new releases, most of which were pretty awful actually. Barney hated half of them but was very eloquent in his descriptiveness. He even disliked the new Interpol, which I actually really like.
The knights of the realm and the football chairmen were at a party that I was covering on saturday night. Not one but FOUR attendees had been knighted by the Queen and the party was also attended by Doug Ellis who now has a stand named after him at Aston Villa. He was a really friendly guy too, although people have told me since that there may be a more "unfriendly" side to him.
We met up with two couples this week to discuss their forthcoming wedding plans as we're booked to shoot the big day for them. We also took time to do a pre-wedding shoot which is something we do with all our couples and is a good way to see how they behave in front of the camera before we photograph them at the wedding. And it allows us to get some more informal portraits that the couple may want to purchase from us. There's also a bit of a gift for the couples from ourselves involved but I can't mention that as it might spoil the surprise! 😉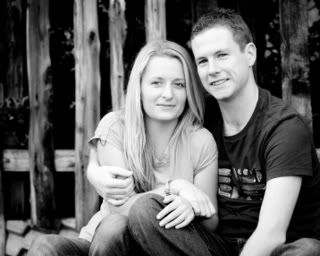 All this work has meant plenty of driving around so it's good to have some new music to listen to in the car. The new Architects album is amazing but Evelyne won't let me listen to the heavier stuff when she's in tha car! Luckily I have the new Interpol album, Editors' new one and Cold War Kids, who are her favourite new band. And next week I'll have Smashing Pumpkins' new album, Zeitgeist. Hopefully I'll be shooting them at Reading this year for Rock Sound.
I should mention a band called Alterkicks too. They're signed to the same label as Kaiser Chiefs and are gaining quite a good following. And my cousin is the bass player!
So it's Wednesday night and I'm writing this at a bar in Birmingham called Island. I've been chatting to some Australian girls who seem amazed that I know bands like The Beautiful Girls, Something For Kate, Xavier Rudd and Pete Murray. There's loads of great bands in Australia that never really make it out of their home country. Even Powderfinger are still pretty unknown outside of Oz. I'm sure there's still tons of bands there that I have yet to discover so if anyone has any recommendations…
Oh yes, and the hits to Steve Gerrard Photography are still sky high since Steven Gerrard's wedding. It's weird but amusing that people are checking out my site while looking for photos of the footballer's wedding. Today, thanks to help from my friend Stef, we've added a new Weddings Section to the site. I thought we needed a concise section for people who were specifically browsing the net for a wedding photographer and hopefully this does the job.
Less than 4 weeks now til our baby's due. We saw the midwife today and everything seems cool. Everyone who has ever had kids has a different opinion about how our lives are about to change. Suffice to say, both our lives are about to change dramatically in an exciting, scary and unpredictable way. But if life's not exciting, scary and unpredictable it's probably a bit boring eh?