Spent a big part of the weekend working through Scott Kelby's great new book The 7-Point System for Adobe Photoshop CS3. It's such a great idea for a book and I've learned more from it than any other Photoshop book so far. And I haven't even read half of it yet! As well as working on the images that come as part of the lessons in the book, I've tried some of the techniques on my own images and got some great results. His ideas for addng some punch to the colours in images work brilliantly.
After reading part of the book I went through my shots of The Arcadian Kicks from a recent shoot. Here's a couple of my favourites..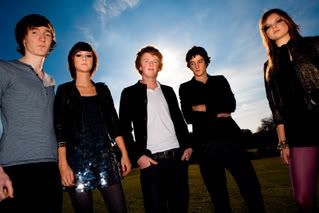 I also finished another of my images from Brett Harkness' Winter weddings seminar..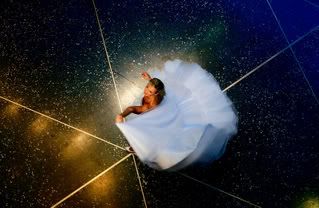 With a few new techniques from Mr Kelby, together with my lovely new Mac Pro, I'm enjoying working in Photoshop more than ever and Evelyne has to drag me away from the computer when she needs me! It's about time we had a full day off actually so i'm thinking of fun things we can be doing with Elliott that won't be affected by this cold weather. He has a bit of a cold at the moment so we need to stay in the warm really. Plus, I'm a wuss when it comes to the cold! 🙂
Last night I did brave the cold to head back over to the Birmingham NEC to shoot Stereophonics and The Enemy, both of which were pretty good. It's weird seeing The Enemy on such a big stage considering it's less than a year since I shot them in a working men's club in Coventry for the NME. They had a few mates there but otherwise it was just blokes drinking on a Sunday afternoon. They sat through the band's set politely, but seemed pleased when it was all over. Since then The Enemy have had a number 1 album and have sold over 6000 tickets for a gig next april in Coventry's Ricoh Arena. Fair play boys!
Here's a picture of Kelly from Stereophonics last night..


You can see my review of the gig HERE
Been listening to the new Dilinger Escape Plan album "Ire Works" and it's immense. I've never paid much attention to them before but I'm a convert.


I'm also listening to a lot of Lamb Of God before photographing them tomorrow opening for Heaven & Hell aka Black Sabbath with Ronnie James Dio. It's a weird choice for support so I'll be interested to see how they go down with that audience.
Here's a photo of Evelyne and Elliott when they dressed up as smurfs for Hallowen a couple of weeks back. Super cute!