Popped over to Manor House Farm Cottage (they obviously couldn't decide what it was) to visit John, Jane & family to show them the photos we took of their two girls, Eleanor & Grace. They're a great family and put a nice healthy order in for framed prints and a photobook. Here's a couple of pictures from their shoot..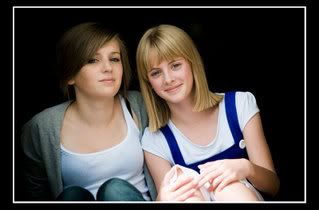 Lisa Gault has shown us a few more pictures she took at our wedding. Here's a great one of Evelyne..

The new Rock Sound magazine is out with my photos of Biffy Clyro, As I Lay Dying, Darkest Hour and Himsa. I may be biased but I have to say that Rock Sound is my favourite of all the rock mags out there. They cover a great variety of music and don't just stick My Chemical Romance or Fall Out Boy on every cover.
It's always interesting how one job leads to something else in this business. Doing a shoot for a kids clothes shop lead to me working for Live 24-Seven mag which lead to me meeting a restaurant owner who asked me to do a family lifestyle shoot before recommending me to a couple who then confirmed me to shoot their wedding. It just proves a point which I've mentioned to many photographers that you just have to get out there and see what happens. If the work's good enough and you're professional and polite, jobs will naturally come your way.
Yesterday I did a shoot for a store looking for images for their Christmas advertising and the store owner chatted to me about doing a family portrait as a gift for her parents' wedding anniversary. In the evening I was working at Da Vinci's restaurant and met up with ex-champion show jumper Emma Jane Brown who wants some portraits of her kids. I also met a man who might be producing our new brochures for us.
All these jobs are great news but it does mean I have to be super-organised and efficient if I'm gonna keep all clients happy. It's not my strong point if I'm honest, but I am getting better. Hopefully my new super-computer will make life easier too. We're ordering it today…
Received Yervant's book "Dancing With Poppy" which has some fantastic images in it. I thought I could use some more inspiration for posing couples on the wedding day. Yervant's work is so artistic and, together with Jerry Ghionis, Marcus Bell and, of course, Jeff Ascough, he is setting a standard I'll be forever aiming towards…