Due to the footballer Steven Gerrard having his house burgled (and subsequently being all over the news), hits to this blog have taken an upturn as people Google his name and somehow end up here. So, for those people, hello and sorry to disappoint you all! 🙂
Back in the world of the other Steve Gerrard things have been kinda relaxed and non-work related allowing time for a little distraction on Facebook . For those not familiar with Facebook, it's a social networking site allowing you to interact and keep up with friends as well as personalizing your profile page with applications, personal info, photos and more. There are plenty of useless and somewhat annoying applications on there (but these can be removed or ignored) and many are extremely useful too, so yesterday I took time to add a few more applications of my own as well as deleting around a hundred so-called "friends". These were people that had asked to be my "friend", often due to my DJ career, when in actual fact I hardly knew them and in some cases had no idea who they were. So I decided a cyber-cull was required so that my "friends" really are friends.
As well as Facebook, there are various other networking sites that I'm a part of. These include Last FM, Linked In and of course MySpace. Each is different and useful in its own way but these days it seems that Facebook has become by far the most popular. I have to be careful not to spend too much time on these sites. They are demons for time sappage and I like to be more productive with my time these days.
Friday saw Elliott's first meeting with Santa and, unlike some other kids in attendance, he remained cool and collected and somewhat unimpressed by the man in the red suit. The party was a fancy dress event for kids held at the local primary school. Elliott dug out his smurf costume (Evelyne wore her Smurfette costume too) and we guaranteed some photos to embarrass him with when he's older..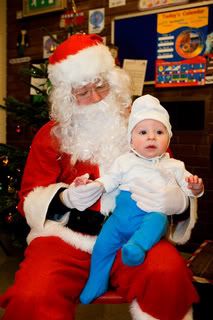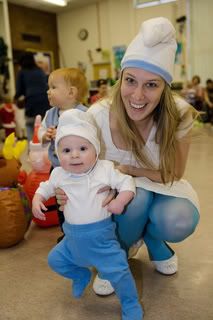 Last night the three of us met up with Kerry & Dave from Fused Mag for a great Thai meal at the Bartons Arms in Birmingham. It's a great old pub which has played host to Charlie Chaplin, Laurel & Hardy as well as Ozzy Osbourne. Not at the same time of course!
Today I'm off to shoot a family who won a competition for a free family portrait session and a framed print. It's pretty cold out so it'll be interesting to see if I can coax them outdoors for the photos. Then tonight I'm DJing for the first time in a while at Island Bar in Birmingham.