The May issue of Professional Photographer arrived on the doorstep earlier than expected and features a 4-page "Day In The Life" article written by myself and featuring photos of Bloc Party, The Twang and the kids' fashion shoot for Cloud 9. The images look great and, although they couldn't resist calling me Steven Gerrard at least once, the article reads well so I'm pretty chuffed. It's a great issue actually and features lots about music photography. It has one of Karen McBride's Liam Gallagher pictures on the cover.
On top of that, but maybe not quite so high profile, our local paper ran an article about our business but managed to make me look like some kind of alien in the photograph. Ahhh well… it's all free publicity.
Since returning from another inspiring couple of days in the Lakes things have been none stop as always. I managed to add a few new images to the Steve Gerrard Photography site as I thought it needed updating a bit. I also came across this article online which was a pleasant surprise. The writer seems to have done his homework and then some!
After hurtling down the M6 from the Lakes I got to Nottingham in time to witness the embarrassingly bad Annihilator supporting Trivium at Rock City. It was comedy metal at its worst but the crowd seemed to love them. I was just annoyed I got there too late to witness the mighty Gojira. Trivium were ok but after getting the shots I needed I headed home.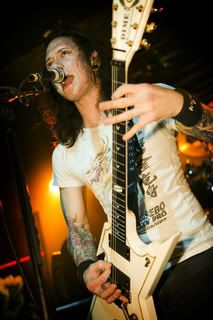 Later in the week I was back in Nottingham to meet up with Bayside for a shoot for Rock Sound. They were nice guys and we got the shots in no time using a graffiti backdrop right by the venue.


I also shot the gig later and had free reign as I was the only photographer and was allowed to shoot the whole set.

The next night I did Arctic Monkeys in Birmingham which was much less enjoyable thanks to a lighting man who must have been paid to make sure we never got any decent shots! Gits! And last night at 30 seconds To Mars was even worse. After waiting an age for Jared Leto and friends to get on the stage, we were granted 2 songs to get the shots and the lighting was even worse than for Arctic Monkeys! Grrrr! Still, managed to get one or two decent ones…

We did the viewing with the family who won the photo shoot on Sunday. They seemed to love the images and struggled to pick just one for their framed image. They ended up choosing this one:


Hopefully now they'll buy at least one other image as a framed print or canvas. We'll see…
This evening Evelyne and I were meant to go to our first anti-natal class. More for me than anything I think. Unfortunately when we arrived at the health centre it was closing and we were told they never do anti-natal classes so there's a communication breakdown somewhere. So now we have an evening free which is most welcome..
Here's a photo of Laura's little boy Ben from last week..