A series of emails ended up with Nine Inch Nails' press officer, Anna, contacting me regarding shooting the gig tonight at Birmingham Academy. Turns out she's the sister of an old friend I haven't seen in around 20 years. Random! She sorted the pass for the gig and asked if I'd like to meet Trent Reznor.
So I got to spend around 15 minutes chatting with Trent in the dressing room before the show, which was great. We chatted about new music, Last.fm, downloading, the future of NIN and the small details between different brands of Coke. The drink!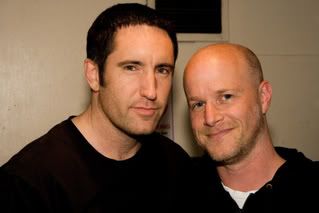 The show itself was another classic NIN gig and I got to shoot songs 19, 20 and 21 rather than the first three. Trent seemed in a good mood despite sound problems and was surprisingly chatty with the crowd. Amazing night all round!