Spent a while going through some of Nikki Sixx's photography on his site. Apart from playing bass in Motley Crue (I won his guitar when I was a teenager!) he also has a great eye for photography. Check out some of his stuff HERE
Popped down to Bar Academy last night to photograph Weaver who, despite a few technical hitches, played a great set.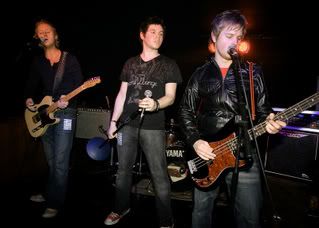 Stuck around for Electric Animals too who were also pretty good.
Today has been another miserable day in Birmingham, so Evelyne and I stayed in being productive, listing stuff on eBay and promoting my DJing by putting a 5 hour live mix online for download. You can find it HERE
Downloaded the new Kaiser Chiefs album as I'm photographing them tomorrow night. If it's as bad as the new single though I doubt I'll listen to it more than once. We'll see…
Tonight I'm DJing at the Hard Rock Cafe again. A few friends have said they're coming which is good. Must remember to take some new tunes with me tonight..