It's amazing how much stuff is out there on YouTube now. I met Trent Reznor from Nine Inch Nails recently and he told me that he now has no need for channels like MTV as he can put almost anything he likes on YouTube. Yesterday I found one of my favourite scenes from one of the best TV shows of recent years, The West Wing. I think everybody should memorize this speech for the next time anybody brings up the subject of the Bible…
Reuters have announced their pictures of the year for 2007 and there's some incredible images in there. Check it out HERE
The family shoot at the weekend went well and I convinced the kids to get out in the fresh air to get some photos at nearby Moor Hall. They enjoyed it too and despite the fading light we came away with some great pictures..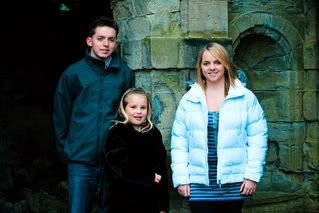 On Sunday we took some time out with our friends Emily and Stef who brought their little girl Imogen over to visit a local farm which was holding a Christmas Fayre. There were animals for the kids to see as well as carol singers, stalls and that bloke in the red suit again. It was cold but nice & christmassy and Elliott got to meet his first piglet..

After shopping for our Christmas Party (and spending far too much!) I was out last night to see one of the best gigs of the year featuring Job For A Cowboy, The Black Dahlia Murder and The Red Chord. All 3 bands were amazing and I got some great pictures. You can see my review of the gig HERE.
Here's some photos from the gig..
The Black Dahlia Murder