Ok, I'm annoyed now.
Just when I think the Steve Gerrard Photography site is looking really good, our friend Brett Harkness relaunches his website and I have to say it looks brilliant. He's a fantastic photographer anyway so the images are all top notch but the slick design and overall feel of quality make me want to start my site from scratch again.
Have a look HERE
Brett's a great guy and even married a Canadian girl too so I'll forgive him for making me feel a bit upset. Also, it's good to have a friend of ours setting the standard when there are so many dated and tired photography websites out there.
The nice folks from Fused magazine launch a new mag next month called Blink. It's bound to be a quality publication and is heavily fashion-based rather than focusing on music and art like Fused. They've kindly let us have a full page ad in the first issue free of charge which is fantastic. Today they emailed asking if they could use my photograph of Brighton Pier in the mag so I was happy to return the favour.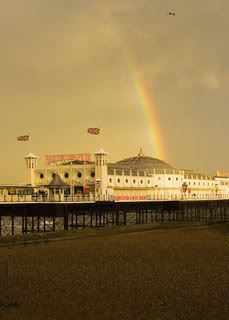 Confirmed our first London wedding today which I'm really pleased about. Simone & Paul get married there next year and they're a lovely couple. They're talking about jumping in a London cab and getting photos in Trafalgar Square and on the banks of the Thames. Sounds like a great day to me. They said they took a long time researching photographers so it's all the more pleasing they finally went with ourselves.
So, we're all set for another full on weekend, with Rachel & Wes' wedding tomorrow and another shoot for children's clothes store Cloud 9 on Sunday. Plus a pre-wed shoot for Lou and Brad who get married in 3 weeks. Then Monday morning it's straight down to Cornwall ready for our own wedding on Wednesday the 3rd. Can't wait! Doubt I'll be updating the Diary while I'm away. Evelyne has banned me from the internet for the week!