In the week that I celebrate my birthday I also find myself doing other activities which signify that Steve Gerrard is finally growing up! The room in our house which for the past decade has been used as my DJ room has begun its transformation into the new baby's room! The records, decks, mixer and various electrical bits & pieces have been relegated to a corner of the living room and in their place will shortly be cuddly toys, a crib and an area for nappy changing! Life moves on… But it's all good and we're excited about the imminent arrival of a baby boy.
My birthday bar-b-q became a simple birthday party thanks to the most torrential rain in weeks! It was still great fun thanks to there being a fantastic group of people and plenty of food & drink. Our friends Lee and Adrienne even made a cake in the shape of a camera which tasted amazing and looks likely to keep us fed for the rest of the month!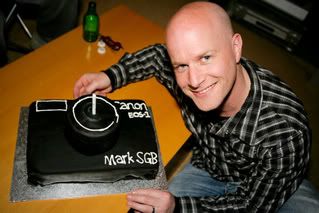 So, birthday over, it was back into work mode Monday and off to Nottingham Rock City again to photograph Funeral For A Friend for Rock Sound. On the way to Nottingham I listened to their new album and it's actually pretty decent. I've never really been a fan but their sound has progressed nicely and they also put on a good show for the sold out crowd. Surprisingly for such a big show there was only one other photographer there so I had plenty of room to manouevre and I grabbed some good shots for the mag.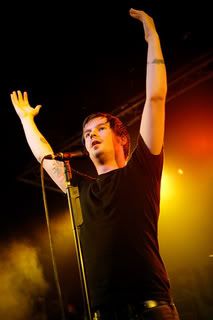 We've had a lot of interest from potential clients this week which is great news. After confirming another wedding for next Easter we've also had contact with clients looking for wedding photos, a family portrait, a fashion shoot and more bands wanting press shots. Things are looking good..
Today it's off to Telford to spend the day with Yervant and Joe Buissink, which I'm really looking forward to. Full report to follow.. 🙂