I always know I'm earning my money when I get home and my arms and legs ache!
This weekend was one such time with a wedding on the Saturday followed by a pre-wed shoot and a band shoot on Sunday around the Mailbox in Birmingham. I say "band"… Insectoid are more of an experimental electronic art project where the members dress in insect heads, gas masks and boiler suits. It certainly made for some great photos and we did attract some attention as we walked the streets in search of locations. But perhaps more surprisingly, quite often people seemed somewhat unfazed by these freakish people in front of them!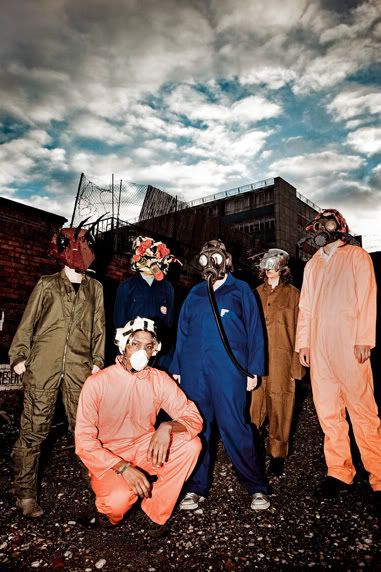 The wedding on Saturday was hard work but a lot of fun too. The ceremony was quite late in the day so the light was fading fast and the couple didn't really want to do many posed portraits at all. I managed to coax them outside for about 3 minutes but then they were off back to the party. It was a shame as the bride was gorgeous but obviously not comfortable having her photo taken. Most of the images from the day were much more documentary style pictures and I got plenty of great shots so I'm sure they'll be more than happy.
This week also saw me looking at a vacant shop space in the Jewelery Quarter. We're considering it as a potential space for a studio where we can display our work, meet clients and generally make things more professional and well-presented. It's a fantastic space and we could use it so well but it is a little pricey for us at the moment. So the big question is.. do we take the leap and do our best to make it work or do we play it safe and continue working from our office at home? We're still very much undecided and it's a conversation Evelyne and I need to have when she returns from Montreal on Thursday. Only 2 days now. I've missed her and Elliott loads and cant wait to see them both!
Tomorrow I'm in London all day doing my first shoot for Terrorizer magazine. I'm meeting the band Prong in Camden tomorrow afternoon for a quick photo shoot and then I'll be shooting their gig at the Underworld tomorrow night. I'm gonna take the time to visit my friends at Rock Sound while I'm in the big smoke too. It's a while since I was in London actually so I'm going to make a day of it.
We updated the Steve Gerrard Photography site this weekend too and I've added a new Photoblog so that clients (and potential clients) can see what I've been up to lately. I think it's important to keep updating the site and making sure it's fresh and relevant..