The past week or so has been a case of several things not working the way they're supposed to and the chief culprit was my main computer. After transferring hundreds of images to my laptop ready for a presntation, my main pc made a small pop noise and refused to work at all. After advice from friends and people in the know it was decided that something quite serious was up with it and off it went to a small computer repair shop in Birmingham that had been recommended to me by a friend. It was there a week!
In the meantime I had to do everything on my Apple laptop, but I was pleasantly surprised at how much faster programs like Lightroom and Photoshop CS3 worked compared to my main PC. It's only the small screen and the fact that all my images are on external hard-drives that made it a bit messy but I managed to get plenty of work finished and looking good. I even processed an entire band shoot while I was DJing at a bar in town and sent them to the band's manager using the bar's wi-fi connection! Sometimes laptops rule!
The band in question was a local band called Revenant Dead whose manager is based in LA for some bizarre reason. They have an album out this week but no decent press shots. Until now that is… 🙂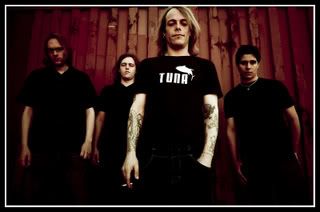 I'm still in awe of people like Marianne Harris whose band portraits are just amazing. Check her work out..
I've been busy as ever but managed to squeeze in time to do a favour for the RSPCA. They needed new photos of their animals looking cute but neglected for a new brochure. Quite a tricky job getting good shots of cats that just want to jump around and play but managed to get some useable images for them. That's my charity work for the decade sorted!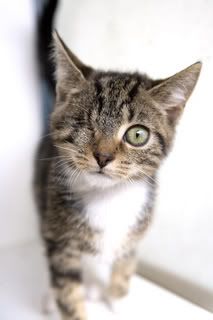 Last week saw the best real heavy gig I've been to in ages when As I Lay Dying brought Darkest Hour, Himsa & Architects to Wolverhampton Wulfrun Hall. I met with Himsa before the show to do some photos for Rock Sound and also managed to grab Architects for a quick shoot on the stairway. Both fantastic bands and it was good to get portraits of them for my portfolio.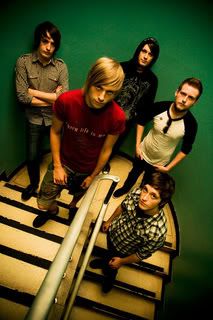 My mom was good enough to come and stay a couple of days so that she could look after Elliott while Evelyne and I shot Natalie & John's wedding. It was almost like a day off for Evelyne but it was really nice having her with me all day at the wedding. It's always great having someone to bounce ideas off, plus she always gets some great photos herself, giving the couple even more choice for the album. It was a really good, fun wedding too, finishing with the groom in the middle of the dancefloor singing "Let Me Entertain You"! Stuff like that makes for fantastic photographs and Nat & John have plenty of images to choose from when they return from the honeymoon.
I love shooting weddings as much as I love shooting bands. You spend a whole day surrounded by people having a great time and get paid very nicely for being there. Better than sitting in an office working for some idiot boss making you do jobs you couldn't care less about anyway.
Evelyne and I had a day in Bristol where we were on the other side of the camera for a change. Our friends Lisa & Roland, who we met at Annabel Williams' studio offered to do a pre-wed shoot for us on the run-up to our October 3rd wedding in Cornwall. We do these shoots for clients all the time but it was interesting to switch roles for once. Lisa did a grand job too and has already sent us a disc with the images on..


Lisa will be just one of the photographers at our wedding so we're hoping for plenty of great pictures for our own album too.
This week also saw the opening of Birmingham's newest rock bar, called Subside. The bar has almost 30 of my photographs displayed around the venue and they look great, if I do say so myself. As a photographer, it's always a buzz knowing that Joe Public is seeing the pictures.
So now my computer is back and working almost as good as before. It really does seem like it's time to upgrade to a better machine but after shelling out over 4 grand for our wedding venue, new toys are off the list for now. It's all good though. If we keep booking weddings at the rate we're booking them we should have money in the bank again very soon. We're considering upping our prices at the end of the month. We did our first 2 wedding fairs and they went really well. At the last fair the other photographers (bar a lovely girl called Kristie) there were so dated and, well just bad, that we felt quite proud of oursleves and had plenty of genuine interest from the visitors. One girl in particular just kept coming back and telling us how much she loved our stuff. She's having a double wedding in May 2010. Some people really do plan ahead!!
The new Rock Sound mag came out with my photos of The Living End, Dwarves and some of my Leeds Fest pix. They chose a strange selection though and didn't print my photos of Nine Inch Nails, Smashing Pumpkins or the Chili Peppers! Instead opting for The Shins, Jimmy eat World and Angels & Airwaves. Oh well.. they're the boss!
Lots to do this week before we head down to Newquay to assist Karen Newall on a wedding at Headland Hotel. It's Evelyne's birthday the same day so we'll treat the weekend as a birthday break with a wedding in the middle. We're hooking up with old friends down there too so I'm looking forward to it…