Seriously, if I'd imagined the perfect wedding in the perfect location with the perfect group of people I doubt I would have dared imagine a day as incredible as our own wedding day. We were so lucky with everything. The weather was fantastic so we moved the ceremony from inside the fort onto the clifftop lawn overlooking the sea. The people who made it down to Cornwall were such a great bunch and the whole atmosphere of the day was something we'll never forget. From the gorgeous ceremony with our own vows and that view to the photo shoot, the fantastic buffet prepared by my relatives, the pub quiz (complete with a round about ourselves as well as a few questions in French for Evelyne's family) and finally a slideshow that had grown men in tears and an evening of great music and great friends, our wedding was just more than we ever could have wished for.
We have yet to see many photos but here are just a few that people have emailed over so far…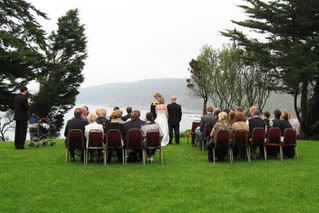 (Photo above by Geoff Rogers)

Photo above by Bianca Barrett

Photos above by Lisa Gault
It was great fun being on the other side of the wedding photographer's camera for a change too and made me realize even more how important photographs are to any couple getting married. We're so excited to see all the pictures taken on our day and it's good to see things from our clients' point of view. Being wedding photographers ourselves meant that we were more than happy to make time to create some great images from the day.
The whole week in Cornwall was just brilliant. Even the day after the wedding we were out n' about enjoying the late English summer and even spotted some seals basking on the rocks. The venue itself was idylic and it was sad to leave it behind but we had 5 days that we'll never forget.
Once we got home it was back to reality with a bang! Magazines wanting images, bands wanting promo shots, couples wanting to meet us to view our work, plus plenty of wedding images to finish off and prepare to show clients whose weddings we'd covered just before our own. Things are crazy busy with the business now and I'm loving every minute. The only thing dragging me down was my PC which just isn't up to the job of handling all these photographs. The last week has been a rude awakening that I need to upgrade, culminating in me ordering my first Mac after continued recommendations from friends and colleagues, not least Tony, my best man. The new computer sounds like a beast and I can't wait to have it in the office to see how it can improve my workflow.
Nat & John loved their pictures from their wedding and ordered another £700 of images for the album. Here's a couple of my faves from their wedding at the stunning Grafton Manor..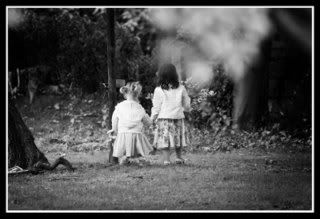 Plus one of me at work, taken by Evelyne…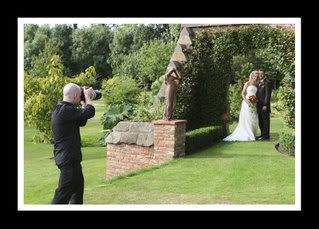 Tammy & Dave were also happy with their photos and are trying to decide which they'd like for their album. Their reception was at Swinfen Hall, a great venue with a really friendly bunch of guests. Here's some images from their day…

Since our own wedding it's been non-stop. Evelyne and I would love a day off to ourselves but we're gonna have to wait for now as the work just keeps coming in. We did find time this weekend to visit the National Weddng Show at the NEC just to have a nose, check out the competition and decide whether we wanted to have our own stand there next year. We subsequently booked for next October after seeing just how busy the show is. It's not cheap to exhibit there but I'm sure it'll be more than worth it.
While at the wedding show we met photographer Emily Quinton and her boyfriend Stef. They run a similar business to ourselves and I'd stumbled across Emily's site the week before and emailed her to say how much I liked her work. It was good to meet them both in person and I have a feeling we'll be getting to know them better. We've both recommended clients to each other for dates we already have booked. Check out Emily's site HERE
After visiting the wedding show we met 2 couples looking for photographers for their wedding day and both meetings went well. Sometimes I feel like I'm having to sell myself as if it's an interview, which I'm not keen on, but usually it feels like a friendly chat about weddings, photography and often totally unrelated subjects and those are the clients we love to work with. Damien Lovegrove calls them "warm fuzzies" as opposed to "cold pricklies". I know what he means though. One of the people we met had already read this blog before too which I was surprised about. While at their house they were playing KT Tunstall and today I was up at the Academy photographing Miss Tunstall who I have to say I love. People who know my love of brutal hardcore metal might be surprised to hear that, but my music taste really is extremely diverse and I think KT Tunstall writes brilliant songs with a lot of personality and live she's so engaging and witty it's impossible not to like her. I can imagine sitting around a camp fire on a beach in Scotland listening to her play songs and tell stories…
Here's a shot from tonight's gig..

Speaking of music photography, I've had 2 of my MySpace sites re-designed by a guy called Liam Flaherty. You can see the results HERE and HERE. The design is clean and simple and showcases the images really well so I'm pleased.
Here's a shot from a band promo shoot I did on Saturday afternoon. The band is called Liken