9 days since my last post. I actually start feelng guilty that I haven't kept this updated for a while. Things have been hectic as ever though and finding time to sit and write has been very limited. It's been all good though and, although a day off at the moment seems like a dream, we've had a great week.
Things started with 2 days trial at Venture which was actually great fun and very enlightening. I've long wondered how things work at Venture so it was fascinating to see Venture photographers doing their thing as well as seeing how they do the hard sell to customers who might be scared off by their prices. I also got to do my own photo shoot with the staff and then work on the images to give them the Venture look before giving my own presentation to the boss as if she were a client. It all went well and I wish I had the images to post on here but Venture have the complete copyright. The staff there were all really nice folks and I could certainly imagine liking work at the studio but at the moment I'm not really sure I can afford to sacrifice 40 hours a week for what is actually close to minimum wage. I'll have to wait a while to see if they even offer me the job though.
At the end of the first day I jetted over to Wolverhampton to catch Editors play a storming sold out show at the Civic Hall. Arrived just as they went on stage, grabbed a few shots and stayed til the end of the gig, even though I had planned on leaving much earlier. Great band!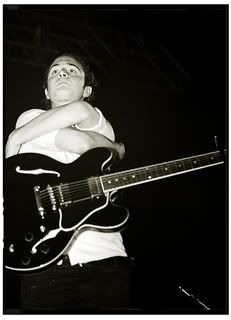 I actually had to ask the boss at Venture if I could leave early on the 2nd day as Live 24-Seven magazine called that morning at 8:45am asking me to shoot an Alvin Loy fashion show at Birmingham Botanical Gardens. It was filled with people from Birmingham "society" and you could smell the money in the room. I managed to get some nice shots from the catwalk – my first catwalk show, so the mag should be happy. Still not sure how much I'm getting paid for it. It was so last minute I never had chance to finalise a deal. I'm sure that's probably not the best way to do things but at the moment I hold all the cards as I have the images! 🙂


Sunday was Lisa & Ian's wedding reception and the weather could not have been worse. The rain literally did not stop the whole day and that seriously limited where we could shoot photographs at the hotel, which was a great venue with a moat surrounding the main building.


We adapted nicely though and, although we were disappointed we couldn't get out into the grounds of the hotel, we got some nice family shots and some great portraits of the couple. The party was good fun too and we have hundreds of photos to show the couple next week. Hopefully they'll be pleased and we can put together a great album for them. They have asked for a coffee-table style book which should work well using our new GraphiStudio account.
On Wednesday we did a shoot for a fashion student who needed some images for her final presentation. The clothes were kinda trashy but her models were lovely girls and the shoot was good fun.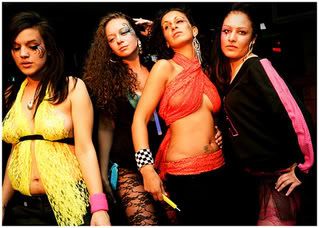 This week has been a good one for music too. I got hold of the new Powderfinger album thanks to my good friend Tony and it's a brilliant album that will be the soundtrack to my summer. Powderfinger are one of those bands that are HUGE in their native country (Australia), selling out arenas and having number 1 albums, but fairly unknown everyhwhere else. Their albums are, apart from the debut, all excellent and live they are always superb. I also got Perry Farrell's new Satellite Party album which is also excellent. I'm a massive Jane's Addiction fan so I'm always curious to see what Perry does next. Often it's disappointing but with Satellite Party he's back on form and I look forward to seeing them live next month when they come to Birmingham to play a venue that holds around 500 people.
Tonight Evelyne and I went to see one of the best new bands on the planet – Silversun Pickups. I have been trying to get my friends excited about this band since before Christmas but nobody's paying much attention. Their album is certainly one of my favourite albums of the last few years and the gig was incredible! Every song sounded like a classic and the band looked like they were loving it, despite the place being half full. After the show I got to meet the band and get my album signed which I don't often do these days but I couldn't resist. They're that good!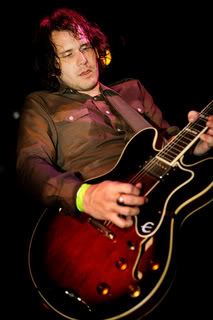 Finished the evening watching Jonathan Ross with the Klaxons murdering "Not Over Yet". Criminal!
Only about 8 weeks til our baby's due now so things are getting exciting. We are planning on finishing the baby's room in the next couple of weeks and last night, while lying in bed, my boy was hyper-active, kicking and pushing as if he was trying to escape the womb. Not long til he escapes for real. And then life changes forever…