Computers don't like people.
It's official.
Just when you need them to be efficient and reliable, they decide to do the exact opposite.
Luckily for me, every time we have a computer problem we are not forced to wait days for PC World to decide what to do about it. There are people in this world called Tonys who have been sent to save us from technological and mental breakdown. I've been fighting with my 'puter for a few days and I'm not sure who's winning. I don't think it's me!
Anyways… Other than that and a slight lack of pennies, this week has been busy but fun so far and the rock mags have been on asking me to shoot some cool stuff for them so that's put the smile back on my face 🙂 Rock Sound have asked if I'll cover Download for them which is gonna be a great weekend. They also asked me to shoot Funeral For A Friend at Nottingham Rock City on the 14th. One of these days they'll ask me to shoot a gig that's NOT at Rock City!
Then today, Metal Hammer called to ask me to go to Manchester tomorrow to meet with Ginger from The Wildhearts to photograph his tattoos. Bit different and they pay better than most mags so all is good! It's actually my first job for Metal Hammer so I better do a stirling job.
Tuesday, met up with the guys and girl from Deluka and spent some time getting a variety of shots to accompany a Fused Magazine article. The carpark of their local pub actually made a great location with a variety of backdrops and we managed to get some pretty cool pics. They seemed a little unsure about being photographed outside but I hope they'll approve of the results…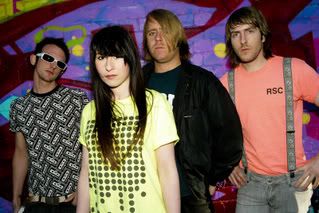 Wedding Professional mag contacted me about doing an article about my move into wedding photography after working in the music industry. It's quite funny that one of my Iron Maiden pics will end up in a wedding magazine but I kinda like the idea.
Professional Photographer magazine also called asking for a "cute" child photo for an article about the legalities of photographing kids. They're gonna use my image of Aaliyah reaching for the daffodil that was used in an earlier post of this blog.
So I just got home after being out for the evening. Evelyne and I met a couple about doing their wedding in September. They were really nice people and seemed to like what we do so fingers crossed we'll get a booking. From there I popped in to shoot Maximo Park at the Academy where I was rightly taken the piss out of for the Professional Photographer article by other photographers. All in good fun of course! I think! There were quite a few photographers there actually, including a few friends, so I was struggling a bit to get decent positions. Maximo Park are good to photograph actually. Quite animated and if you're fast you can get a good shot of Paul doing his trademark leaps. Here's one pic but I'll go through them all tomorrow. Actually I probably won't as I have another manic day…

Time for a beer… Cheers.