Decided to contact footballer Steven Gerrard's agent to see if he'd be interested in me doing a photo shoot of his family. I think it's an interesting idea but I doubt anything will come from it. But if you don't ask… It'd certainly be something for people to talk about and Mr Gerrard would get some great pictures of his kids for the walls. He might even be able to afford our prices!
Our replacement MacBook arrived thanks to a successful insurance claim. The new one is way better than the old one so things have worked out well in some ways. Maybe I should ask the people who burgled the house to come and take a few more things so I can upgrade those too. Maybe not. Tony's taken the new laptop and is adding Photoshop CS3 and Lightroom for us which is great. He's a good 'un!
Today Evelyne and I did our best to have a well-deserved day off. She's over 6 months pregnant now so we took time to take some photos of her with her bump.


Some of the shots from our back garden came out great and then we took the dogs to the park and got lots more pictures there.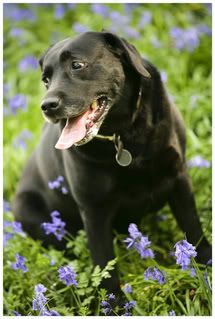 Evelyne decided she wanted to take a few pictures of me too and I have to say she did a great job. I don't always like photos of myself but I'm happy with a few of the ones she took.


Also got booked to shoot a couple more local bands. Deluka, who I've shot live a couple of times, and a local grunge rock band called Animotorso.
I'm off to Serbia this weekend to DJ at the Trenchtown Festival. Eastern European gigs are always great and the last time I played Serbia it was to 20,000 people at the Exit Festival. I fly in to Budapest, which is odd as it's in Hungary, so I'm ready for a long drive when I get picked up.
Finishing our day off with dinner at the pub… 🙂