7:34am 17th July 2007 and Evelyne and I welcome our first baby into the world. It's been a truly amazing , surreal emotional experience but our new baby boy is perfect and Evelyne has been an absolute star.
It all started just after midnight when Evelyne suspected her waters were breaking. For us both it's our first baby so we didn't really know quite how it all works but it soon became clear that something was definitely happening so we called the hospital and they recommended we go straight in.
After checking her over they said Evelyne was fine to return home and that we should call the hospital at 8:30am and arrange to come back in to be monitored throughout the day. We were home around 4am and tried to sleep. In fact, I did fall asleep but while I was in the land of nod, Evelyne began getting contractions and I was woken an hour and a half later by the sound of my wife in severe discomfort. After measuring time between contractions (a minute and a half) we called the hospital back and headed in. By now Evelyne was suffering and I did the 20 minute journey in around 11 minutes! We arrived at Good Hope Hospital around 6:20am and went straight to a delivery suite.
It wasn't long before it all started to happen. After being checked again and given gas and air, the midwife announced that it wouldn't be long before baby arrived. It was all happening so fast and Evelyne had a look of total shock on her face! I think she was expecting to have a few drugs and settle in for the long haul but just over an hour later our son arrived, I cut the chord and he was handed to Evelyne who got to hold him for over an hour before he was eventually weighed (7lb 9oz), measured and checked over. No problems at all I'm happy to say. Evelyne thinks he looks like my dad.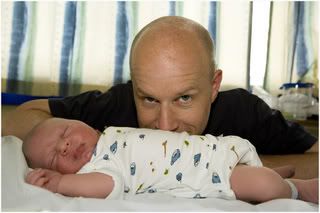 When people know you're gonna have a baby, if they've had kids themselves, they always have advice as well as that look in their eye that says "haha you don't know what you're in for!" In the end though, everyone's experience is going to be different and nothing quite prepares you for the real thing. It really is one of life's truly magical moments and it's fantastic to finally see the baby boy that's been hidden inside Evelyne for almost 40 weeks. We have a name in mind for him but need to run it past Evelyne's mom first. As her family are french speaking we want to make sure it sounds ok to a french speaker. Unfortunately her parents are 7 hours from Montreal at their cabin in the middle of nowhere with no phone! We have to get her brother to contact their neighbour who can then get them to call us. So far, we haven't heard from them.
Evelyne didn't even need to stay overnight and the three of us, together with my parents who came straight down from Chester, were home just after 6pm. Some of our good friends popped round to meet the baby and we cracked open 2 bottles of champagne. A great end to an amazing day.
It's a good job the baby didn't arrive a couple of days earlier as we were 2 hours away from the hospital in Wales all weekend for Laura's 40th. It was a great, relaxing couple of days in great company and, as it turns out, our last trip away on our own for some time. We have a tiny person to take with us everywhere now!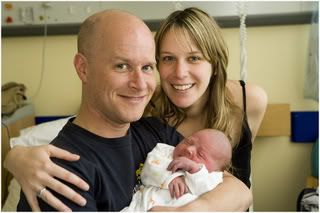 Thanks to everyone who sent messages to Evelyne and I already. We really appreciate them.